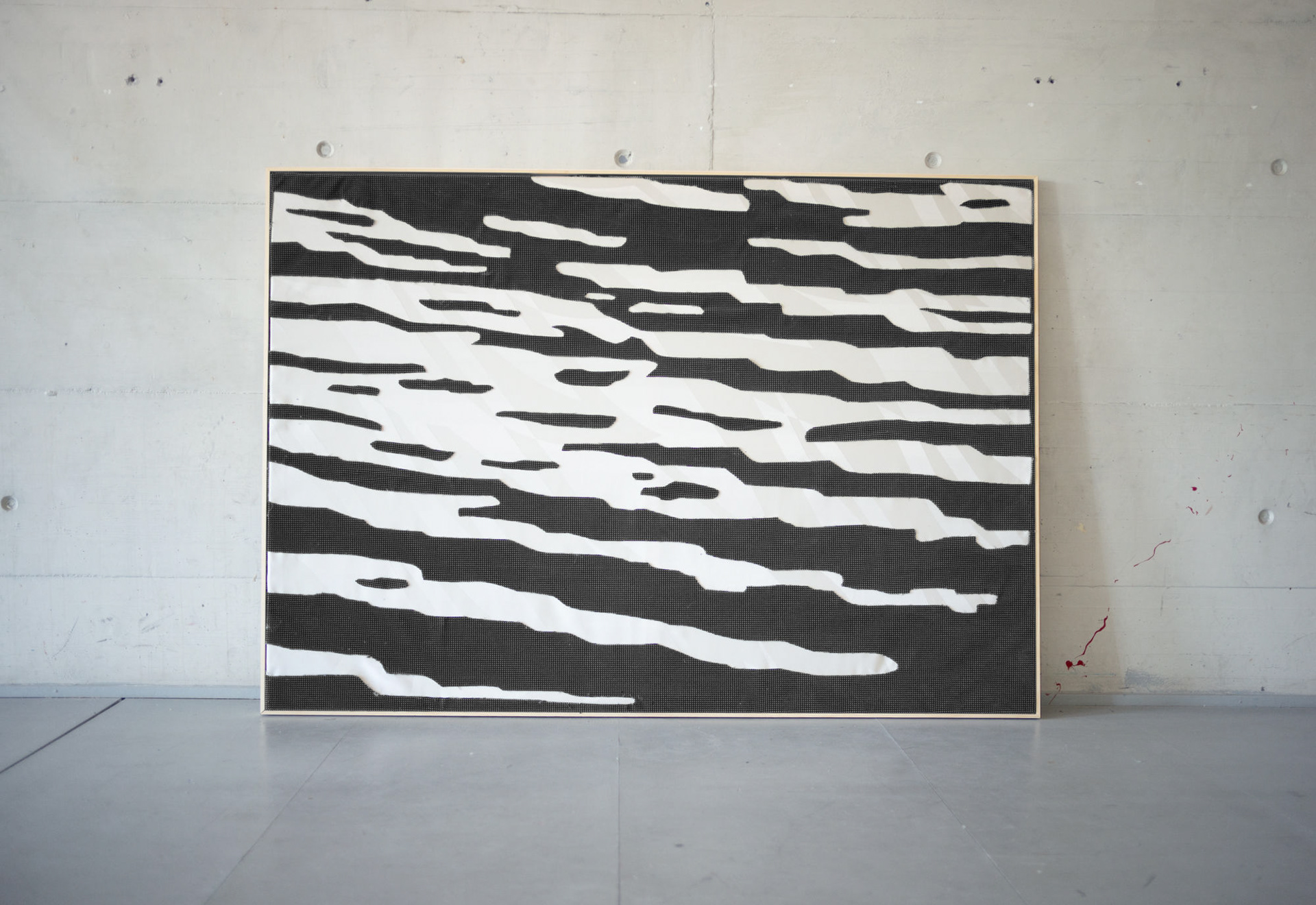 German artist Lucia Kempkes studied Biology and Philosophy at Freie Universität Berlin, Fine Arts at
Universität der Künste Berlin
, and later at the
School of Visual Arts in New York
. Her artistic practice is focused on a personal investment in landscape, mobility, and the materials and objects humanity developed to get there. Lucia creates environments using diverse media such as drawing, carpet knotting, sculpture, and video. Exhibiting internationally she also takes part in residences such as the
NANJI Residency
of the Seoul Museum of Art,
Pioneer Works
in New York City, Rote Fabrik in Zürich. She has received scholarships from the
Richard Thomas Foundation
London and won the Specific Award at
The Others Art Fair
Torino.
IMATELIER: Lucia, you've been in a residence in Zurich for about a month, how do you feel about this experience?
LUCIA: It was and it is amazing. Very inspiring!
Rote Fabrik
in itself is an amazing space, as well as all the people who are involved in the project are super helpful and open. I felt very welcomed from the beginning, plus the studio is fantastic - that gives freedom to explore.
IMATELIER: I see you've been productive [looks around]?
LUCIA: Yes, I have a super productive time. Especially now during COVID, lucky that I was allowed to come and that it was not canceled. The first month I was working in my studio every day, now I also explore the city a lot. I am enjoying both.
IMATELIER: Do you miss your art atelier in Berlin?
LUCIA: No, [laughs] not at all! Naturally, I love my studio, I love my city and friends. However, 3 months is an amazing time abroad, it is not too long not too short and it gives me the energy to do lots every day. Therefore, I'm looking forward to going back to Berlin but also I would be absolutely fine staying 3 more months!
IMATELIER: That's a good sign! As far as I know, the project you have been working on investigates the topic of extreme sports. How did you come up with this theme?
LUCIA: Well, I have to say it has changed a lot. COVID happened and all the planned collaborations became very tricky. I had to rethink my plans completely and, at some point, I just decided to follow my guts, the inspiration I got here. For example, I found the company Lantal that creates mobility textiles (all fabrics made for busses, trains, cruise ships, or airplanes) and it was very easy to collaborate with them during the pandemic. I could visit them, get fabrics. I decided that the project I intended to work with have to wait. Those works I did now are based on the idea that it's quite fascinating how much we still want to be in landscape or how much we surround ourselves with images of landscape on our desktops, or in ads, and what mobility means to us. I have been working on this topic for several years, and two or three years quite intensely.
During my time here I enjoy working fast and intuitively, combining my knowledge from past projects with new materials, and a more emotional approach to the topic. I hate to stay on a surface level, I like to test my works and to make sure they are as complicated as we are (laughs). There is never just one answer to why we do something, for example why we travel, so my art pieces also interact with each other like they tell different sides of a story.
IMATELIER: I see your attention to materials, attention to their sustainability. How do you choose which ones to work with? For instance, how have you discovered stone paper? I have not heard of it before.
LUCIA: For example, I started working with silk paper because I was searching for materials to say something about the fragility of dreams, of adventure. I decided to build replicas of outdoor objects like sleeping bags or outdoor jackets made entirely from silk paper. Outdoor Gear of any kind allows us to have an adventure, they are great objects to say something about our desire to conquer nature. After the silk paper sculptures, I wanted to do an outdoor sculpture and that's not possible with silk paper.  I found stone paper and I was immediately in love with it. It dissolves under sunlight to dust - that's super romantic. That allows me to work on the concept that says something about sustainability and, again, our desire to have adventures. How long will we ski or how long will we continue to do tourism as we are used to? After Corona will we just start having the habit again or will we be the only generation that flew for 10 euro with EasyJet or Ryanair? Even how long will this be part of our culture? 
I think we started not so long ago, maybe now it is going to be around 60 years of individual travel. So this is a perfect material to talk about the fragility of our individual adventures, our hobbies, also the privilege that comes with having something like a canoe. Talking about privilege - thinking it's a great idea to risk one's life jumping out of an airplane has also a lot to do with having a very safe life and the boredom of a daily routine, a home. But yes, this is how I am searching for the materials that can help me to make art pieces about those ideas and thoughts. I love to contemplate on those topics, to understand what our near future mobility may look like. Researching things like mobility I came to mobility textiles. They are produced for buses, trains, other transport, so it was very easy for me to decide - ok, I want to do something with them. For me, a childhood memory of bus seats is the absolute start and end of an adventure, or when you enter or leave an aircraft. That means we're going to experience something. I decided to draw on them with chewing gum because chewing gum is the one thing that sticks forever. And it just makes sense to me. So it starts with a concept but then I follow my intuition.
Lately, I was thinking about an ideal landscape or perfect landscape, a perfect place, a happy place. I found all those stock images and I started to draw them digitally on my iPad and then decided to draw them by hand. So those images now are hand-drawn digital drawings, contemporary landscape drawings. I felt like saying something about how we navigate today - between digital and analog all the time.
IMATELIER: It sounds liberating! Actually, that is exactly what I wanted to ask - how do you balance research and an intuitive approach?
LUCIA: Exactly. It's super important. This is also why this residence was so good for me. In this big space, I could place my artworks next to each other and I could work simultaneously and also impulsively. I discovered I like to be cheesy sometimes, these new works are all very atmospheric to me. I like emotional and romantic works right now [laughs]. I'm tired and bored of exhibitions that pretend to be scientific but they're not, you know, mirroring a science aesthetic but nothing deeper, no surprise, nothing unsolved, all didactic and explained.  I think it's more interesting to allow intuition and complication, to make pieces that can be read through references and understood to a point but then leave you with your imagination, own memories, and thoughts, that's what I want to do. 
IMATELIER: How long were you working on this piece (the Kayak made from stone paper)?
LUCIA: Very long! I made the first kayak entirely built from stone paper already in Berlin to test the material, to check if it is possible to build sculptures from it. It took me 2 months every day. I had to find ways to make it look like a real boat. For this one I had instructions already, I wrote everything down step by step, so it was easier but still took me 2-3 weeks.
IMATELIER: And how long does this boat have before it disappears and falls apart? 
LUCIA: Well, I wanted to use the material which has built-in decay. But it depends. When I finish a stone paper piece, I take a photo of it, saying this is our zero - from now it will decay, it will fall apart, it will become dust. But there is a decision: stone paper reacts to UVB Light, therefore, if it is kept in the dark or at least far away from direct sunlight, it will stay forever. But if you want to expose it to sunlight or even artificial sunlight you can make it dissolve to dust quite quickly. 
IMATELIER: An additional time dimension to it?
LUCIA: Absolutely. And I think again that's it fits the concept because it means we have a choice. I keep thinking about all the stuff we own, keeping it in the garage or the basement, waiting to do something with it but not using it much. I like surfing, so I have surfboards but they stay 300 days a year in the basement. So I feel like the storage part is fitting to the concept. However, I can not tell you how long these sculptures will be with us. I want to document those pieces over time.
IMATELIER: Have you some plans for the next project already, maybe the next residence?
LUCIA: No! I hope to have some sort of summer vacation and then go back to Berlin, start working again and see what comes. I think it's it's necessary to have space after residencies. I plan to see where this all is going, rather than deciding again on the next project right away. I don't want to hop from piece to piece. I need time to understand what has happened, to process the latest discoveries, to decide if I want to continue working in this direction. 
IMATELIER: Thank you so much for the interview, Lucia. I hope to see you in Zurich again! Have a safe drive home.
LUCIA: Thank you!